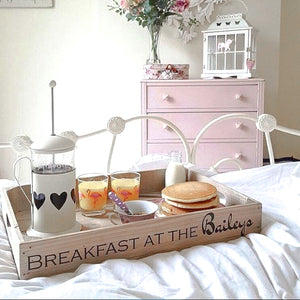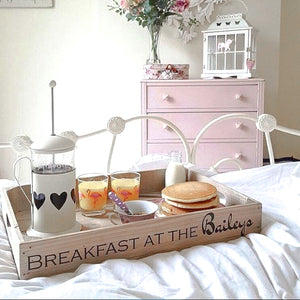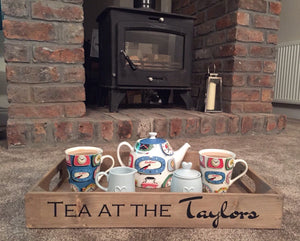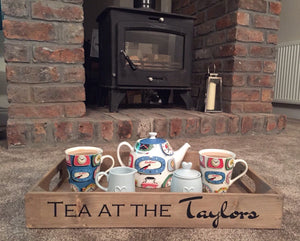 PERSONALISED RUSTIC WOODEN TRAY
Our personalised wooden apple crate trays are not only perfect for that Sunday morning breakfast in bed and afternoon tea in the garden but also make great display units for cupcakes, pastries and homemade jams and chutneys to show off your wares at craft fairs and fetes being branded with your company name. These vintage style wooden trays are also perfect for vintage tea parties and weddings.
They also make great personalised gifts for any occasion.
Price shown is for personalisation on one side of the tray only.
*Please note the following gramatical rules for use of apostrophes when making a surname plural taken from The Grammarist.com:
Making a last name plural should never involve an apostrophe. The members of the Johnson and Smith families, for instance, are the Johnsons and the Smiths, not the Johnson's and the Smith's.
Last names ending in s are no different. Most nouns ending in s are pluralized by adding es. This applies to last names as well. The members of the Edwards and Doss families are the Edwardses and the Dosses, not the Edwards's and the Doss's.
1. Please select a style for your wording from the first drop down menu (e.g BREAKFAST AT THE Baileys will be in all caps with the 'name' in script font, 'You , Me & Tea' STYLE will be in typewriter font with A heart at the beginning and end of your wording - PLEASE ENSURE TO ADD A NOTE TO THE 'ORDER NOTES' IF YOU DO NOT REQUIRE THESE HEARTS) If selecting 'own style' from the drop down menu, please ensure to add the font you would like the wording to be in: either All caps, Script or Typewriter font to the order notes. IF NO FONT CHOICE IS ADDED TO THE ORDER NOTES FOR 'OWN STYLE' OPTION (I.E. 1. CAPITALS, 2.SCRIPT, 3,TYPEWRITER OR 4.CAPITALS & SCRIPT TOGETHER) THEN WE WILL USE THE FONT OR MIX OF FONTS THAT WE FEEL ARE MOST SUITABLE.
2. Please add your personalisation details to the personalisation field. Maximum of 2 Lines. Please note personalisation is on one side only and will either be aligned vertically to either the bottom or the middle of the slat depending on the characters within the personalisation. Please double check the spelling and grammar as we will copy and paste your wording.
FREE Delivery to

 

mainland

 

UK -EXCLUDES – Northern Ireland, Scottish Islands, Scottish Highlands, Channel Isles, Isle Of Man, Isle Of Wight, Scilly Isles, Republic Of Ireland.
Approximate measurements of the vintage style wooden trays are: Length: 54cm  x Height: 8 cm x Depth: 36cm.
Please note that due to the rustic nature of the wood all crates may have slight differences in appearance and colour.
All crates are made to order and we always aim to dispatch within 5 working days Monday to Friday.
Postage by courier with tracking, please allow 3-5 days for delivery from dispatch.Discounts may be available for large quantities, please let us know your requirements.