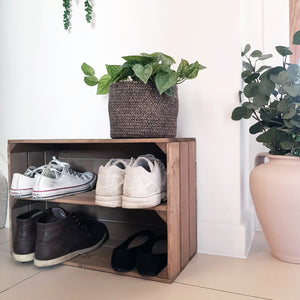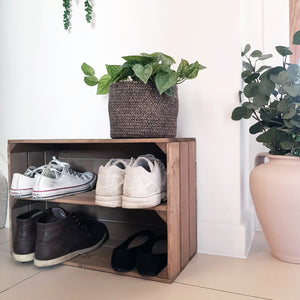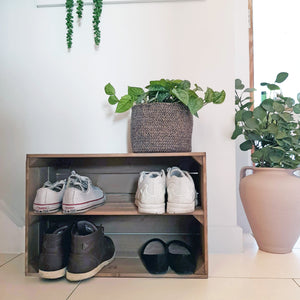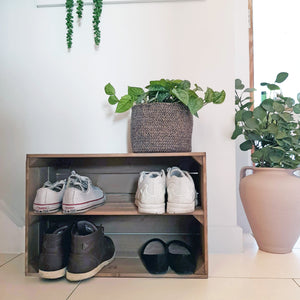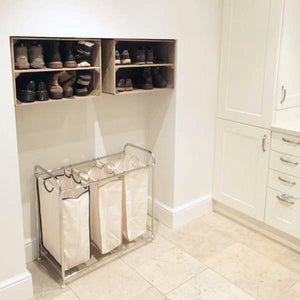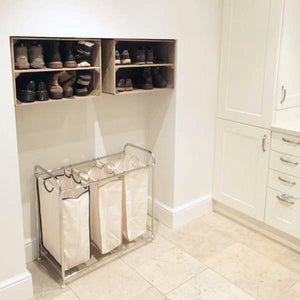 SHOE RACK APPLE CRATE
Apple Crate Shoe Rack
Introducing our Rustic Wooden Shoe Rack, a charming and practical addition to your home organisation. Handcrafted with care from a repurposed apple crate, this shoe rack seamlessly blends functionality with rustic elegance, creating a warm and inviting atmosphere in any space.

Product Features:

Authentic Apple Crate Charm: Each shoe rack is carefully crafted from our original hand made apple crates, preserving its unique character and history. The natural, weathered wood finish exudes rustic charm, adding a touch of nostalgia to your home decor.

Space-Saving Design: Tired of tripping over scattered shoes? Our shoe rack offers a smart storage solution to keep your footwear organised and your space clutter-free. The compact design fits perfectly in entryways, closets, mudrooms, or bedrooms.

Ample Storage Capacity: Despite its compact size, this shoe rack boasts ample storage capacity. Its multi-tiered design provides enough room to accommodate several pairs of shoes, from trainers and sandals to boots and heels.

Versatile Functionality: Beyond its shoe-storing capabilities, this crate shoe rack can adapt to your needs. Use the top surface to display decorative items like potted plants, framed photos, turning it into a stylish focal point.

Sturdy Construction: Crafted with durability in mind, the shoe rack is built to withstand daily use. The solid wooden construction ensures stability, while its distressed finish adds to its vintage appeal.

No Assembly: Setting up your new shoe rack is a breeze. The package will arrive with the shoe rack fully assembled and ready to use, no allen keys needed.

Eco-Friendly Choice: By repurposing an apple crate, you're making an eco-conscious choice and contributing to sustainability. Embrace the beauty of upcycled design while reducing your carbon footprint.

Elevate your home's aesthetic while keeping your footwear organized – our Rustic Wooden Shoe Rack made from an apple crate is a practical and decorative solution that complements any decor style. Embrace the timeless allure of natural wood and transform your living space into a cozy haven of rustic charm. Order yours today and experience the perfect blend of functionality and elegance.

Before ordering, please check that your shoes will fit.
Measurements approx: Length: 54cm (21 1/4") x Height 36cm (14 1/4") x Depth 23cm (9").

PLEASE NOTE: If you have bigger shoes, please see our deeper shoe rack listing here.

This listing is for 1 shoe rack, please update the quantities in your basket if you require more than one.

The photos you see are pictures of the actual crates you will receive, not examples from the internet, but please note that due to the rustic nature of the wood all crates may have slight differences in appearance.


These can be stacked on their sides or easily fixed together to create a larger storage unit. 

FREE Delivery to mainland UK - EXCLUDES CHANNEL ISLANDS, SCOTTISH HIGHLANDS
Measurements of the apple crates with shelves are: Length: 54cm (21 1/4″) x Height 36cm (14″) x Depth 23cm (9″).
Please note that due to the rustic nature of the wood all crates may have slight differences in appearance and colour.
All crates are made to order and we always aim to dispatch within 2-3 working days Monday to Friday. Orders received after 12pm Friday will be dispatched on the Tuesday/Wednesday.
Postage by courier with tracking, please allow 3-5 days for delivery from dispatch.
Discounts may be available for large quantities, please let us know your requirements.